← Back
The Relationship Between College Certificate Programs and Industry: Part 2- The Colleges
by Dina Hamed


You would think it would be safe to assume that those who choose to receive formal training in baking and pastry arts by pursuing a college certificate are students with the dedication, commitment, passion, and love for the craft of baking. As mentioned in part one of this reflection and according to their program instructors, the 1-2-year college programs have consistently high enrollment, however, there is still a labour shortage in the industry (Barnett, Findlay, Gower, Libertini, and Schoenrank, personal communications, 2021). I believe this is do, in part, to the fact that most or some of the colleges themselves do not have proper admission requirements set in place for their programs.
The following images are screenshots of the admission requirements for 6 different baking and pastry arts 1-2-year college certificate programs across Canada.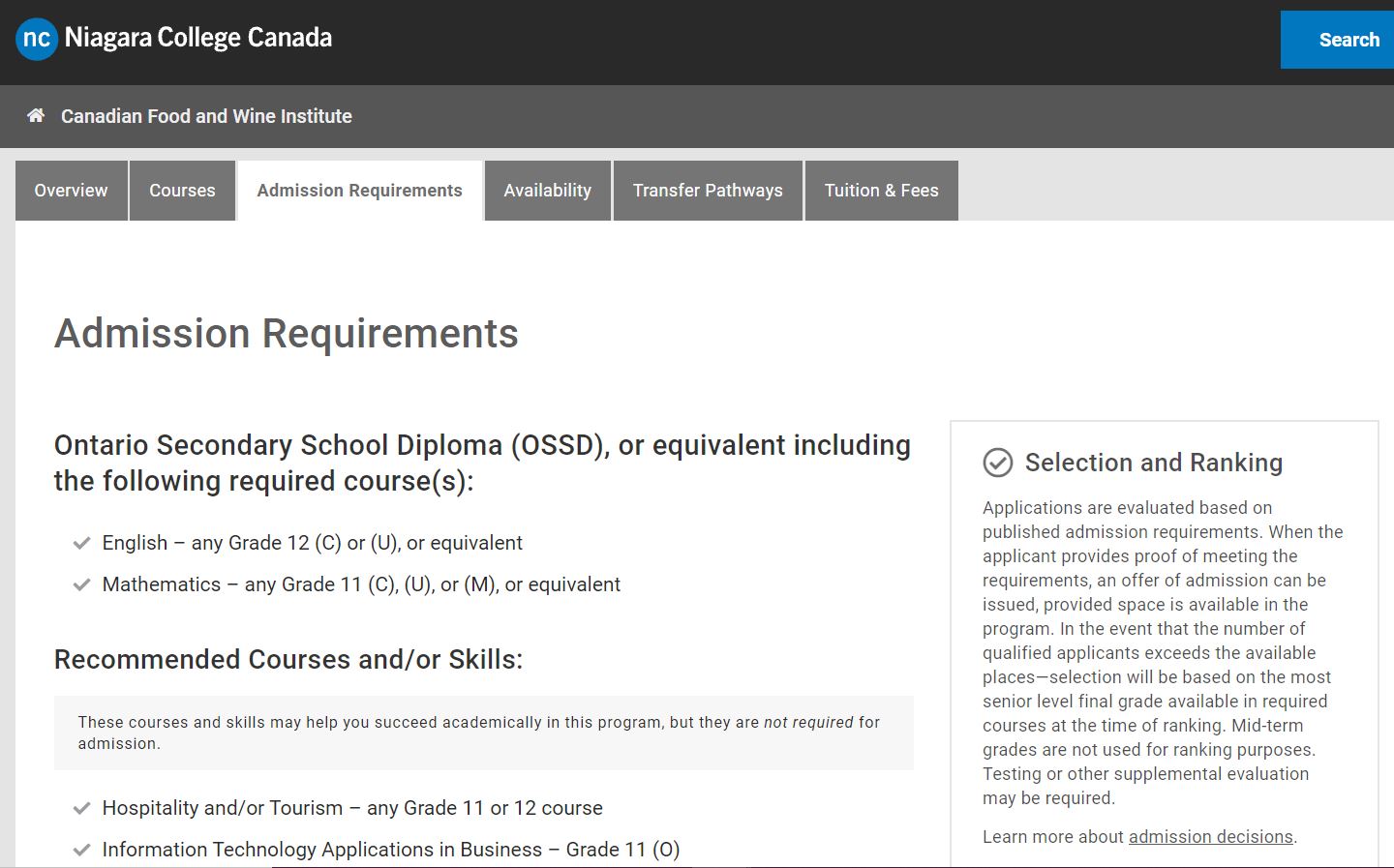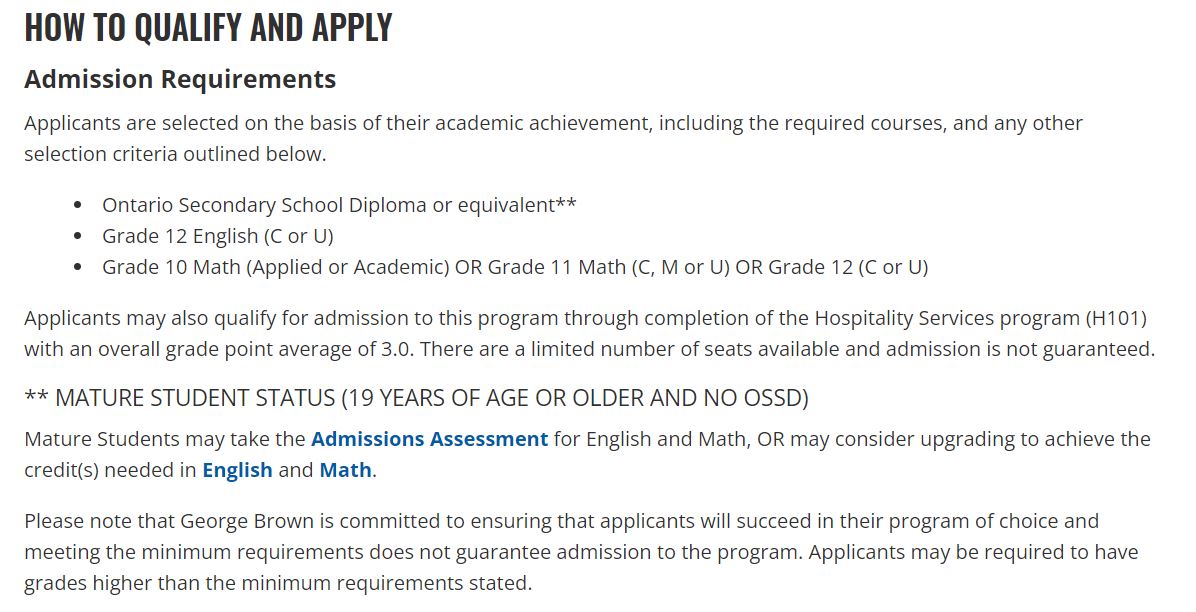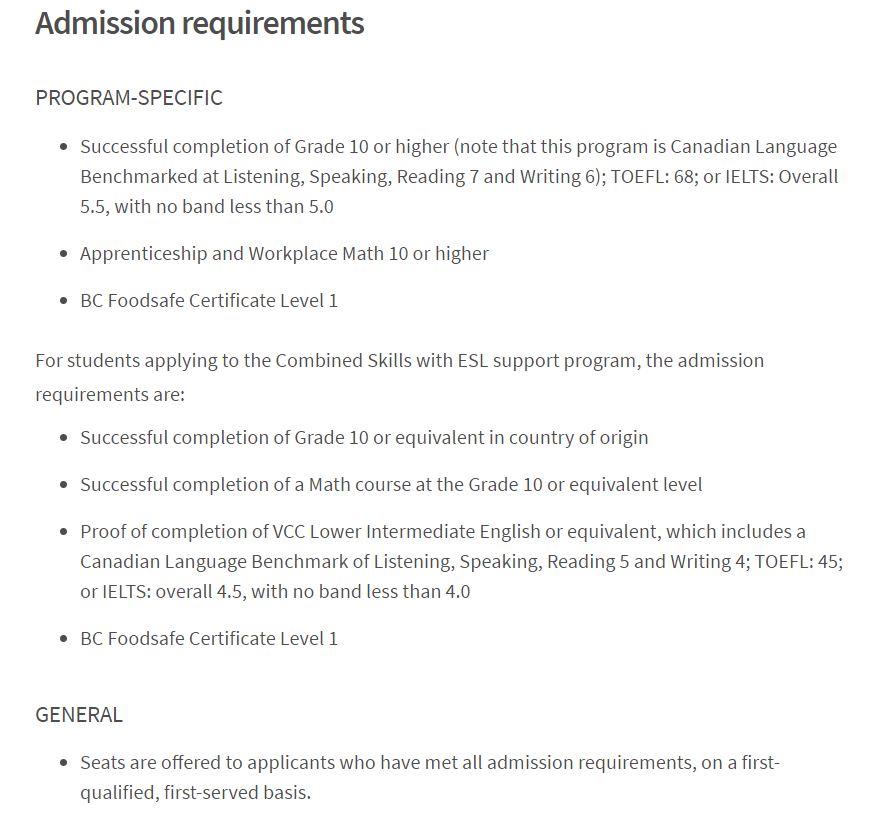 Out of the 6 colleges I investigated both Ontario based colleges, Niagara College Canada (NCC) and George Brown require that an applicant have their Ontario Secondary School Diploma, Grade 12 English, and at least Grade 10 Math or higher for George Brown and Grade 11 Math or higher for NCC for entry into their respective programs. The Southern Alberta Institute of Technology (SAIT) requires that an applicant has at least passed the equivalent of Grade 10 English and Math to qualify for the program. Vancouver Community College also requires the candidate's successful completion of the equivalent to Grade 10 English and Math, as well as the first level of BC's food safety training. Finally, the Culinary Institute of Canada in PEI requires the completion of Grade 12 "…at or above the general level" for entry into the program. In addition, almost every college mentions somewhere on their admissions page that acceptance into the program is based on these minimum requirements and is determined on a first-come, first-qualified basis. No other processes of admission is mentioned.
By contrast, Vancouver Island University (VIU) is the only college with a much more rigorous approach to their admissions process for their baking and pastry arts 2-year program. While VIU also asks that every applicant has completed Grade 12 and BC's level 1 Foodsafe certificate, the college has other noteworthy admission requirements (depicted below). VIU requires every applicant to complete assessment testing divided in 4 sections. Section A-Reading Comprehension, Section B-Math Skills, Section C-Writing Skills/Personal Profile, and Section D- Interview, conducted either on the phone or in-person. While section A and B align with the basic admission requirements of the other 5 colleges, sections C and D demonstrate a new layer of admissions the other colleges do not have. VIU goes above and beyond to ensure that applicants demonstrate a genuine interest in the baking and pastry arts program and the resulting career paths by having candidates fill out a personal profile pictured below and conducting candidate interviews! Yes, this takes more effort on the administration's behalf but at least it weeds out the candidates who may not be suitable for the program based on intent. As I mentioned before, to survive and thrive in the baking industry an individual must be dedicated, committed, passionate, and have a love for their craft. It is not an easy field. I believe these extra levels of admission requirements that VIU has in place will help in determining if a candidate exemplifies any of those attitudes towards the baking industry.
VIU Admission Requirements: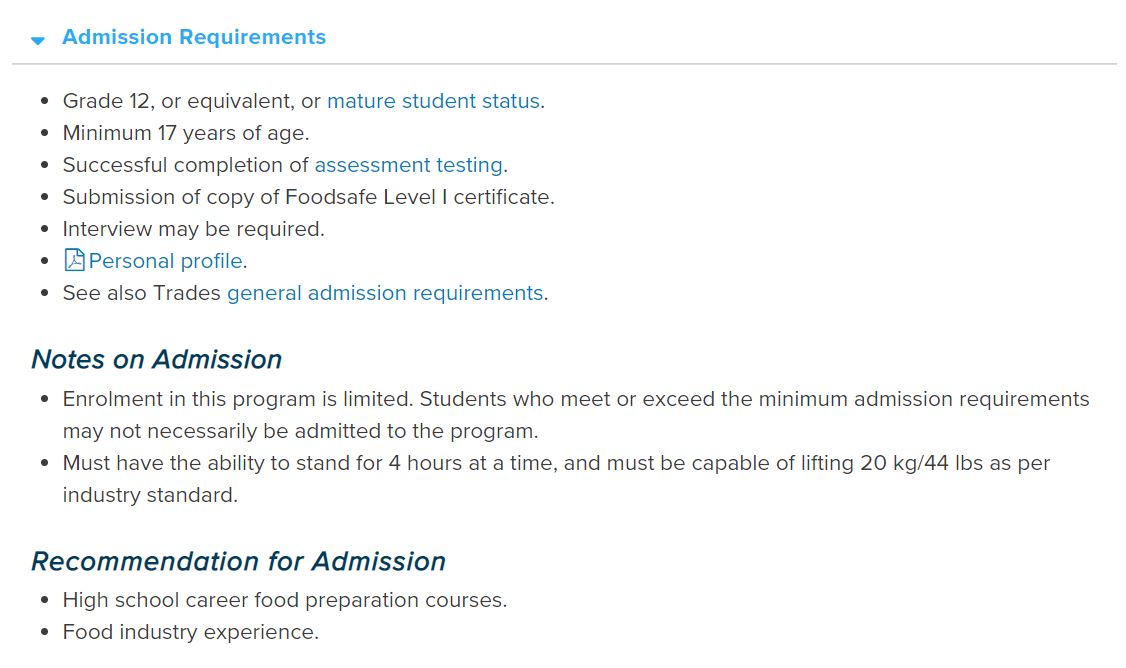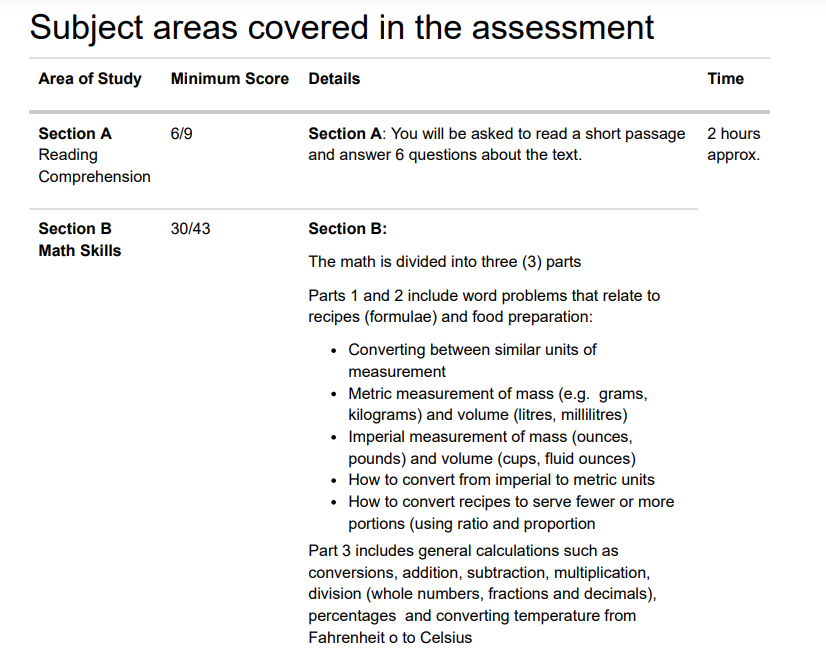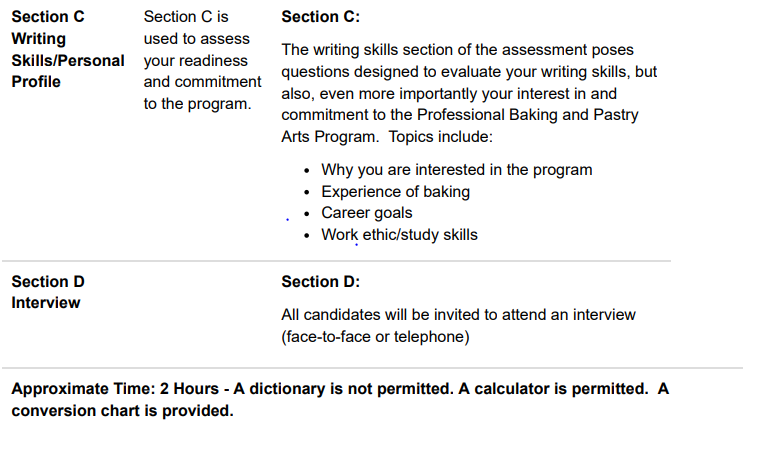 My hypothesis is that one of the contributing factors to our paradoxical labour-shortage-with-high-enrollment-colleges situation, is that the college programs do not make enough of an effort to ensure that their student body is composed of candidates with the interest and/or potential to succeed in the baking industry. Therefore, it is easy to speculate that those who are enrolling in our college programs may be there fore the wrong reasons and after graduation it seems as though they are not entering the baking industry, leaving our businesses deprived of labour and encouraged to keep lowering job requirements to keep their operations running.
Sources

Assessment Review and Practice Test [PDF]. (2016, March 14). Retrieved, 2021 from https://services.viu.ca/sites/...

Baking and Pastry Arts Management Program H113. (2021, October 21). Retrieved from https://www.georgebrown.ca/pro...

Baking and Pastry Arts – Pastry. (n.d.). Retrieved from https://www.vcc.ca/programscou...

Baking and Pastry Arts Program: Niagara College. (2021, August 06). Retrieved from https://www.niagaracollege.ca/...

Holland College: Pastry Arts. (n.d.). Retrieved from https://www.hollandcollege.com...

Personal Profile [PDF]. (2014, December 11). Retrieved 2021, from https://www.viu.ca/sites/defau...

Professional Baking and Pastry Arts. (n.d.). Retrieved from https://www.viu.ca/programs/tr...

Sait. (n.d.). Baking and Pastry Arts. Retrieved from https://www.sait.ca/programs-a...