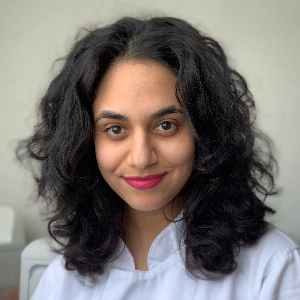 Pastry Chef, Baker, Artist, & Educator
Dina Hamed is a classically trained visual artist and pastry chef. She believes that dessert making is a symbiotic relationship between science and artistry.
Dina earned her Bachelor of Fine Arts degree from McMaster University before completing her chef training as a student of the Baking and Pastry Arts program at Niagara College Canada. In 2018, Dina became a pastry cook apprentice and was quickly promoted to an assistant pastry chef position at Sweet Paradise Bakery and Delicatessen in Hamilton ON, Canada. Dina also has experience as a freelance recipe developer for the food marketing agency, TAG, in Toronto, ON as well as several years of experience in retail management, most recently as a bakery department manager for Arz Fine Foods in Mississauga, ON. For the past 5 years, Dina owned and operated her own custom dessert business called Studio Doonz, which offered from-scratch, custom cakes, pastries, and confections. Recently, Dina continues to pursue her Skills Ontario Red Seal Baker-Patissier trades certification. She has joined the talented pastry team at The Pearle Hotel and Spa in Burlington, ON, continuing to hone her industry skills under the tutelage of Executive Pastry Chef Bertie Tanaya, one of the top 25 Pastry Chefs in Toronto, ON. Dina has also begun actualizing her life-long dream of teaching in the creative sphere, as a part-time Chef Professor, in the Baking and Pastry Arts program at Niagara College Canada.
Passionate about baking and pastry arts education and recognizing the incommensurability between baking education and industry needs in Canada, Dina is completing a Professional Master of Education at Queen's University, specializing in the Classroom Specialist concentration. Her research focuses on how educators can implement creativity research to curricula in order to develop students' creative and critical thinking ability; their employability and professionalism; as as well as their technical and artistic proficiency in baking.

As of July 2022, Dina is an active member of the Ontario Chapter- Board of Directors for The Baking Association of Canada, serving on the Membership and Education Committee as well as managing the organization's social media platforms.
Favourite dessert:
A delicious, tangy lemon tart!

Words I'm reflecting on these days are:

"Do not ask your children
to strive for extraordinary lives.
Such striving may seem admirable,
but it is the way of foolishness.
Help them instead to find the wonder
and the marvel of an ordinary life.
Show them the joy of tasting
tomatoes, apples and pears.
Show them how to cry
when pets and people die.
Show them the infinite pleasure
in the touch of a hand.
And make the ordinary come alive for them.
The extraordinary will take care of itself."
-William Martin, The Parent's Tao Te Ching: Ancient Advice for Modern Parents